Installation Options
Built-in top access installation
This option is mostly used when pools are being newly constructed. During the pool design stages, allowance is made for a below ground chamber into which the cover can roll. This leads to a neat and concealed detail.
These chambers can also be added to existing pools but it is rather complex, as the chamber needs to form part of the pool because it also needs to be filled with water.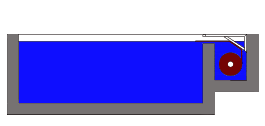 Built-in water access installation
This option is generally used on pools being newly built where it is impossible to create a top access panel into the pool cover chamber. This would be the case where heavy tiles are being used around the pool and having a removable access hatch from the top would prove impractical. The water access built-in option has a vertical removable access panel from the water side consisting of a stainless steel frame covered by a PVC panel which can be tiled or fibre-glassed to match the pool. It is strong enough to be kicked against when swimming lengths in a pool.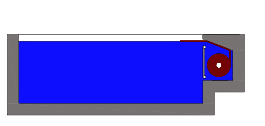 Martini seat installation
This option can be used for existing pools or for pools being newly built. It is a built-in option where the cover retracts into a wet chamber which can double up as a martini seat. The chamber (enclosure) is constructed out of a stainless steel sub-frame which is clad in thick PVC panelling. This in turn can be finished to match the remaining pool finish. The vertical wall can either be part of the enclosure or it can be built as part of the pool construction. The horizontal panel is removable for maintenance purposes.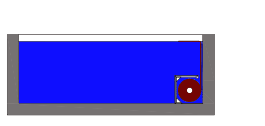 Above ground installation
This option is generally used for existing pools. The cover rolls onto a shaft which is housed in a roll-up station positioned above ground on one end of the pool. These roll-up stations are constructed strong enough to be used as benches, tables, tanning decks, etc. In most cases they are clad in exterior timber decking, but other finishes are also available, for example tiles, cement board, etc.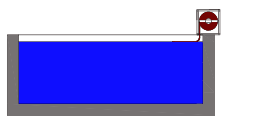 Slat Material
PVC Profiles
This option is the most cost effective. The PVC profiles are imported from Europe and represent the best quality product available in the market. The material is expected to last about 15 years or possibly longer, depending on the amount of exposure to the sun and harsh chemicals.
Colours: light grey, white, sand, light blue, dark blue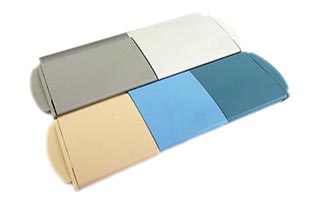 Polycarbonate Profiles
Non Solar: this option is significantly more costly than the PVC slats. This material has a superior finish, is aesthetically more pleasing and is expected to last longer for approximately 20 years.
Colours: clear transparent, blue transparent
Solar: the solar option of this material actually heats up the pool and replaces roof-mounted solar heating systems and / or heat pumps.
Colours: clear solar, blue solar, green solar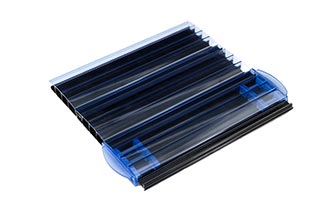 Covrex Profiles
This option is the most expensive. The slats are fully foam filled and thereby significantly stronger. They do not require any end-caps and can hence be shaped to suit any curved pool edge seamlessly.
Colours: cream white, steel grey, silex grey, sky blue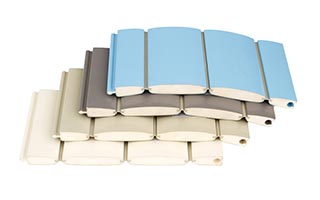 Automation
The automation of POOLSAFE covers is achieved by the use of tubular motors that are housed inside the shafts onto which the covers roll. The motors are custom manufactured for POOLSAFE to the highest standards. They run off 24V DC for safety reasons. The motors are connected to a control box which includes the transformer as well as a PLC for programmable limits. These control boxes are locally manufactured out of robust components in order to accommodate an unreliable and fluctuating power supply.
POOLSAFE covers can be operated by remote control, wall mounted switch, key switch, integrated to home automation, or any combination of the above.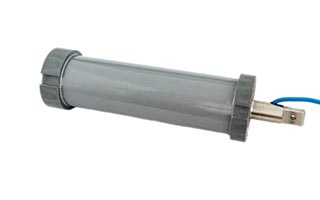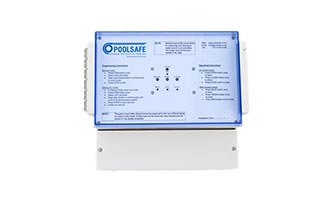 Cover Operation
Slatted pool covers float on the water surface and hence do not require any tracks in which to run. The slats consist of hollow profiles that are hermetically sealed on either end. The buoyancy of a cover is sufficient to support the weight of a toddler. However, we always recommend designing a side recess into newly constructed pools at water level in which the cover floats. For existing pools we recommend fitting a stainless steel handrail just below the water level. With these additional supports in place, the cover can then support heavier weights, including an average size adult.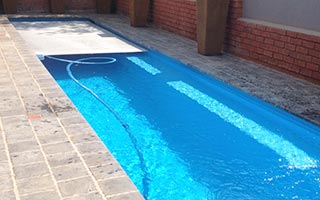 Design
POOLSAFE assists with all aspects concerning the design of the pool to integrate a pool cover. We have CAD facilities which enable us to professionally interact with architects, project managers, building contractors and of course the end clients themselves.